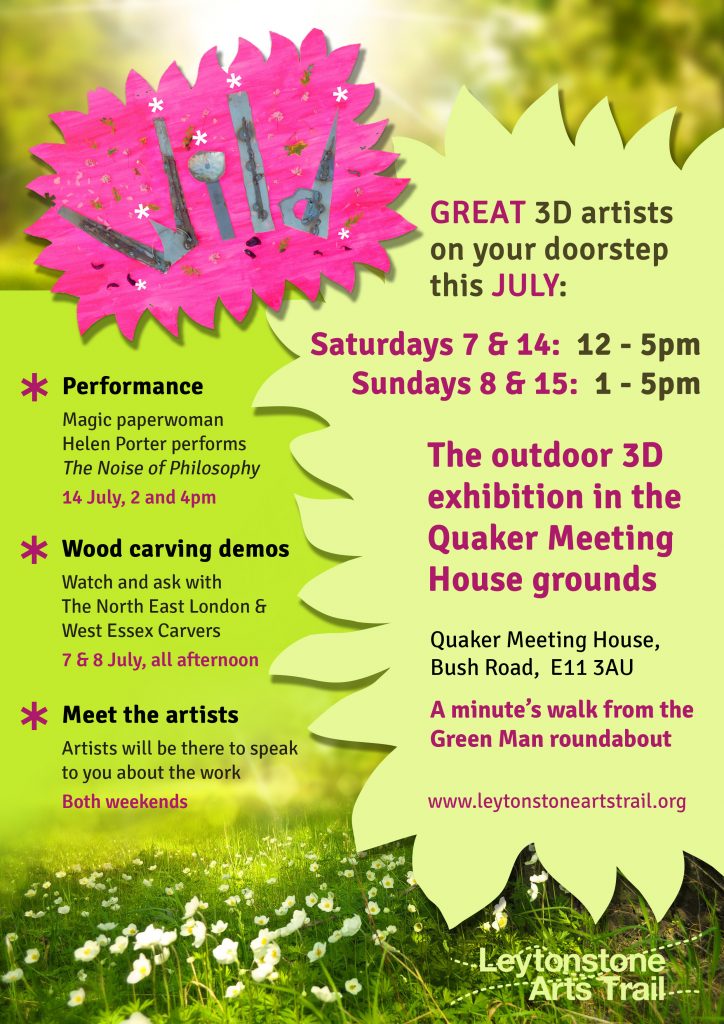 Wild, the outdoor 3D exhibition, features 22 artists this year. Curators Brett Banks and Mary Knight are thrilled that they are joining us in the grounds of the Quaker Meeting House. They will be bringing a wonderful range of sculptures, installations, interactive and performance art to the wild woods on your E11 doorsteps, for your pleasure only. In addition there will be a demonstration of wood carving by the North East London and West Essex Carvers on the afternoons on Saturday and Sunday 7 and 8 July.
Another must-see will be Helen Porter, the magic paperwoman of Walthamstow. Helen will be fascinating our audiences with her magnificent performance, The Noise of Philosophy. This will feature paper on the move with sounds of civilisation. Oh and a hint of Pygmalion, Rousseau and some New Zealand connections, we have been promised. Her show is on Saturday 14 July, at 2 and again at 4 p.m.
Also you will see houses walk, meet strange things in the trees, be gripped by wild poetry and follow the journey of pebbles whilst, we hope, a gentle breeze brings a sound sculpture to life. Oh, and between the Quakers' indoor show and Wild, you can enjoy Jan Sellers' Labyrinth which joins the two worlds of indoor and outdoor art together. Just some of the exciting features of this exhibition Wild.
Venue: Wanstead Quaker Meeting House
Address: Bush Rd, E11 3AU
Dates and times:
Saturdays 7/14 July 12-5pm
Sundays 8/15 July 1-5pm
Meet the artists: all days
Wood carving demo: Sat 7 & Sun 8 July
Performance: The Noise of Philosophy by Helen Porter; Sat 14 July, 2pm & 4pm
Also see:
"Waves, Motion & Stillness" + events at this venue
Venue accessibility: Yes. The grounds have natural paths around them. These might make motorised and unmotorised wheelchair access more difficult but not impossible.
Contact:
@WildinLeytonstoneArtsTrail
Facebook: WildInLeytonstone
Participating artists
Brett Bank
Tony Blackmore
Kath Cottee
Elizabeth Davies
* Siobhan Davies
Pippa Davismoon
Jo Goddard
Emma Harvey
Patsy Hickman
Teresa Hedderwick
Jolanta Jagielo
Mary Knight
Silvia Krupinska
Kikis Leventis
Julia Maddison
Klaus Pinter
Helen Porter
Yukako Shibata
Margaret Spiers
Ben Swift
Tracy Ward
Sean Worrall
*Due to unforeseen circumstances, Siobhan Davies is now showing in St John's Churchyard & will be guest artist at Hitchcock's Home pop-up cinema event, 12th & 13th July.