The following posts appeared in the 'Latest News' section of this website in the lead up to Leytonstone Art Trail 2013.
An image gallery of photographs of the Leytonstone Arts Trail 2013 can be viewed here.
08/07/2013 Behind The Scenes: Carne Griffiths

"This year's arts trail has been a great way to incorporate lots of things I love in one place, it's taken some planning but hopefully it has brought a lot of fun to the studios here at Norlington.
Over 100 artists are taking part in Memorabilia (An exhibition of artwork and objects from childhood) to raise money for Great Ormond Street Hospital. My contribution to the exhibition is this portrait of my daughter which is in progress at the studio:






I also started giving away 100 signed limited edition prints of my piece 'Flight', the idea is a pay it forward one – if you value the print – donate what you think it is worth to Great Ormond Street Hospital… and there are about 30 left! The exhibition has been extended until Sunday 14th, with late opening this Thursday evening – come and check out the exhibition and join us for a glass of something cold."

____________________________________________
2013/07/03
03/07/2013 Behind The Scenes: Shadwell Printers

The Shadwell printers work from the print making studios provided by the London Borough of Tower Hamlets, Lifelong Learning at the Shadwell Centre.  They offer a range of print courses, as well as an open studio facility for printmakers to work on their own projects.  They will have two shows one highlighting prints on fabric at Meze Patisserie and works on paper at the Library Hall. Hilary Douse, who is organising the Shadwell printers participation in the trail, shows us some of her preparations.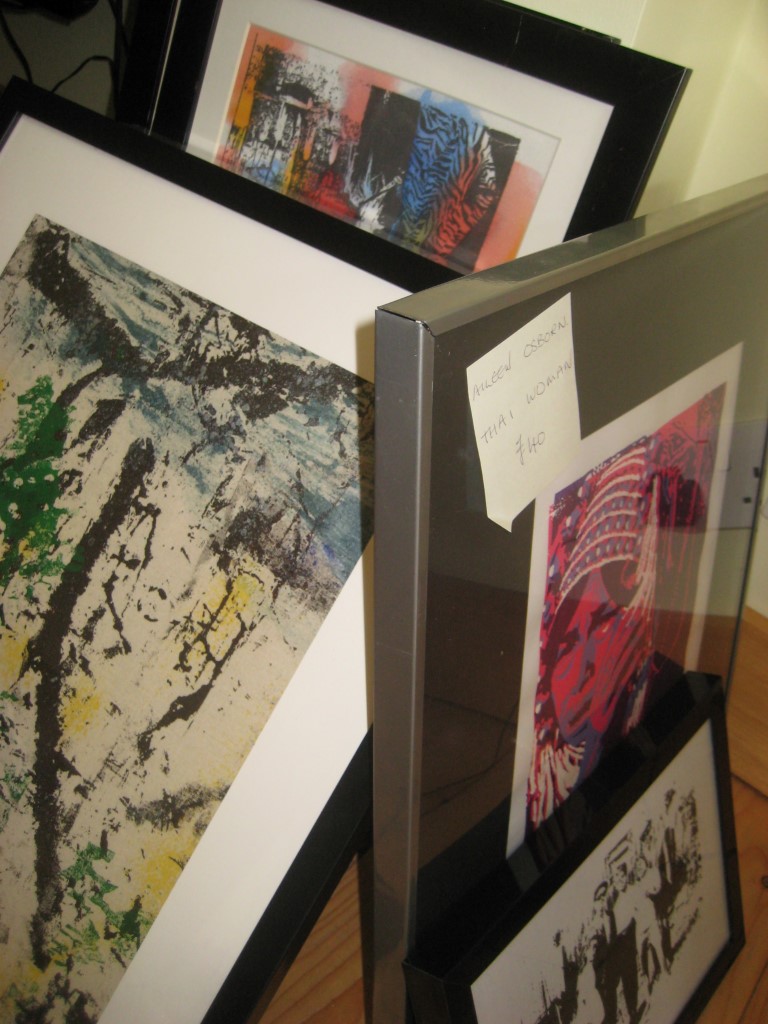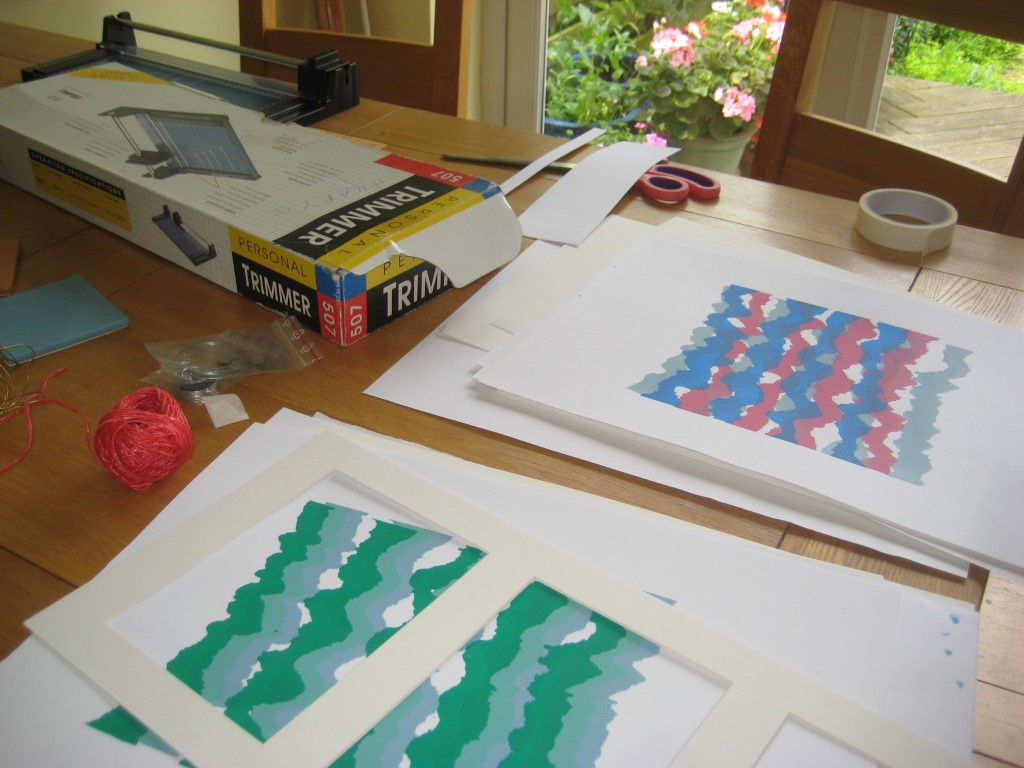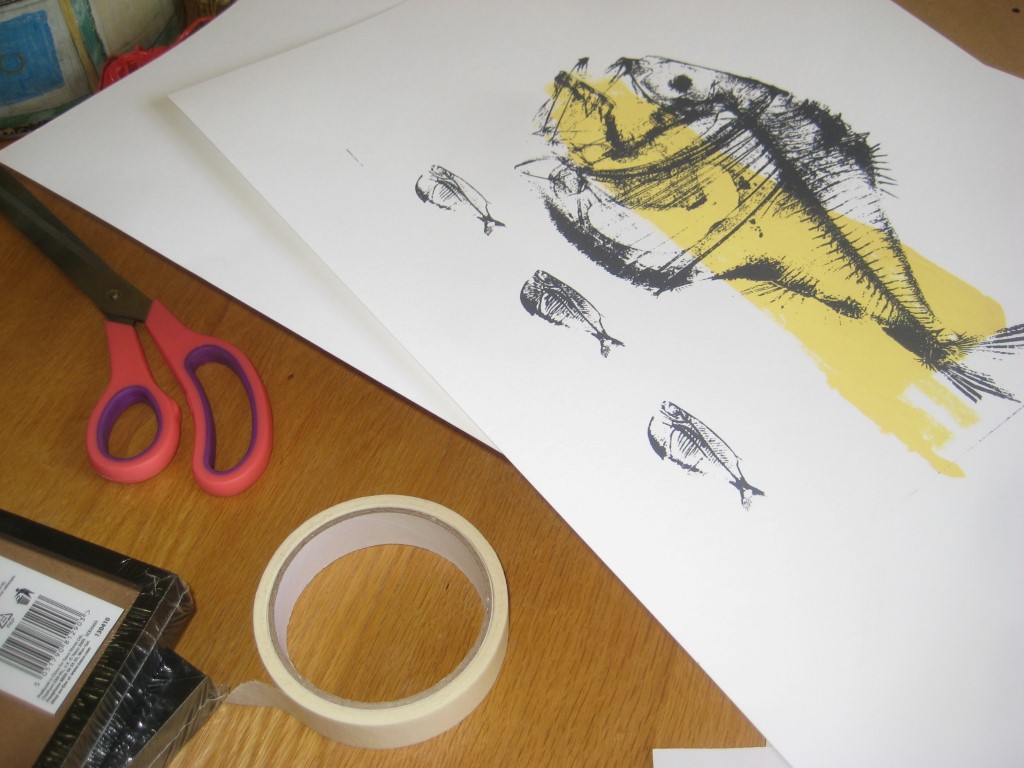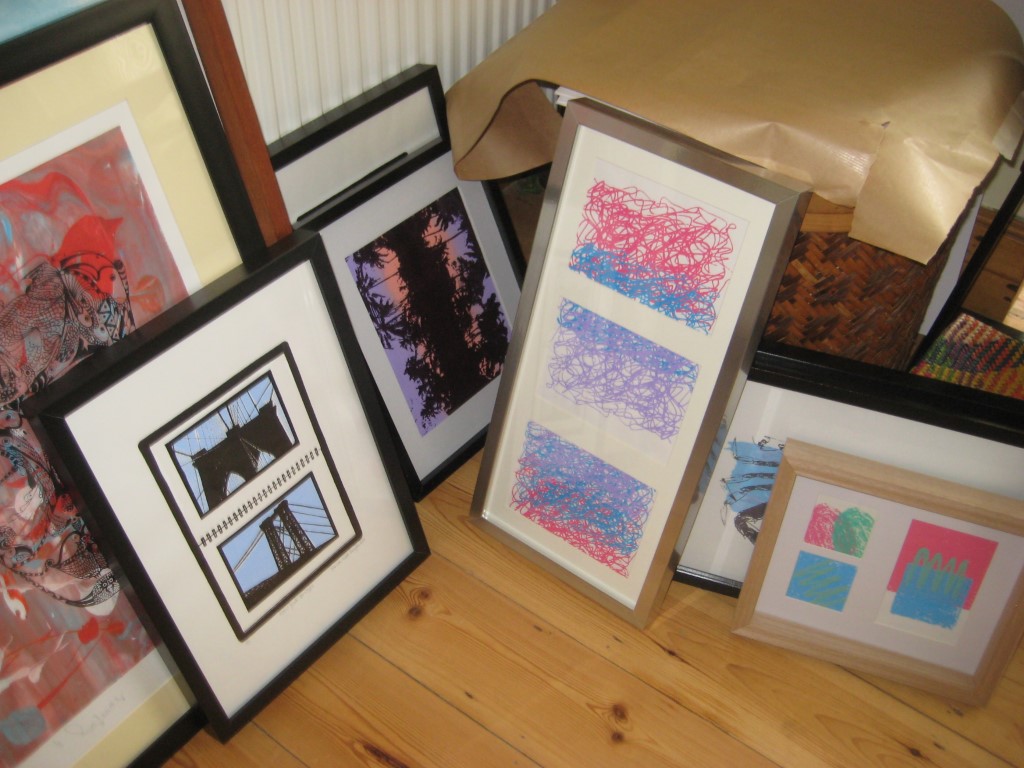 ______________________________________________
02/07/2013 Behind The Scenes: Stuart Cameron, Karen Pamplin Browne and Catherine Pamplin
'Reside at Home' is the next Reside show and will take place during the Arts Trail. New works by Reside artists Stuart Cameron, Karen Pamplin Browne and Catherine Pamplin will adorn the walls of  Stuart's house in Leytonstone.
Reside is an online project, exploring the themes of residency and home. The reside project is participatory and ongoing. Reside website: http://resideresidency.wordpress.com/
Karen is exhibiting recent photographs of Leytonstone homes and gardens.
Catherine is exhibiting painting and mixed media work on the theme of homes.
Stuart's pieces are mostly digital images created on his ipad  and some watercolours which have been digitally enhanced.
In addition digital photographs from Leytonstone Museum contributors will also be in the show.
Reside at Home 38 Stanmore Road, E11 3BU. 13/14th July 12pm-5pm
Stuart's workspace:
Work waiting to be hung: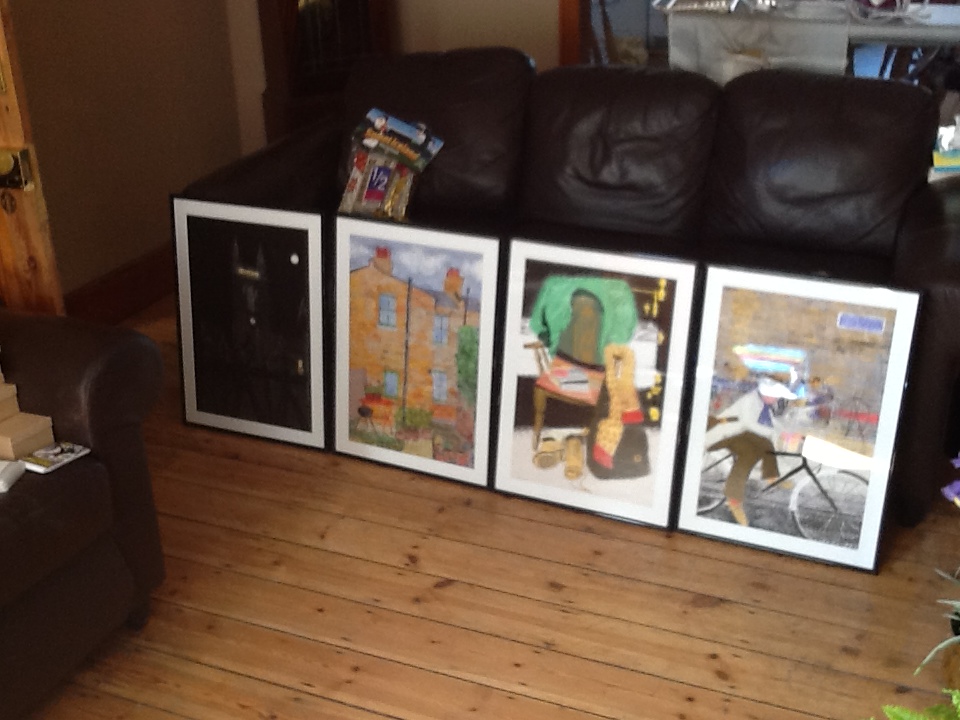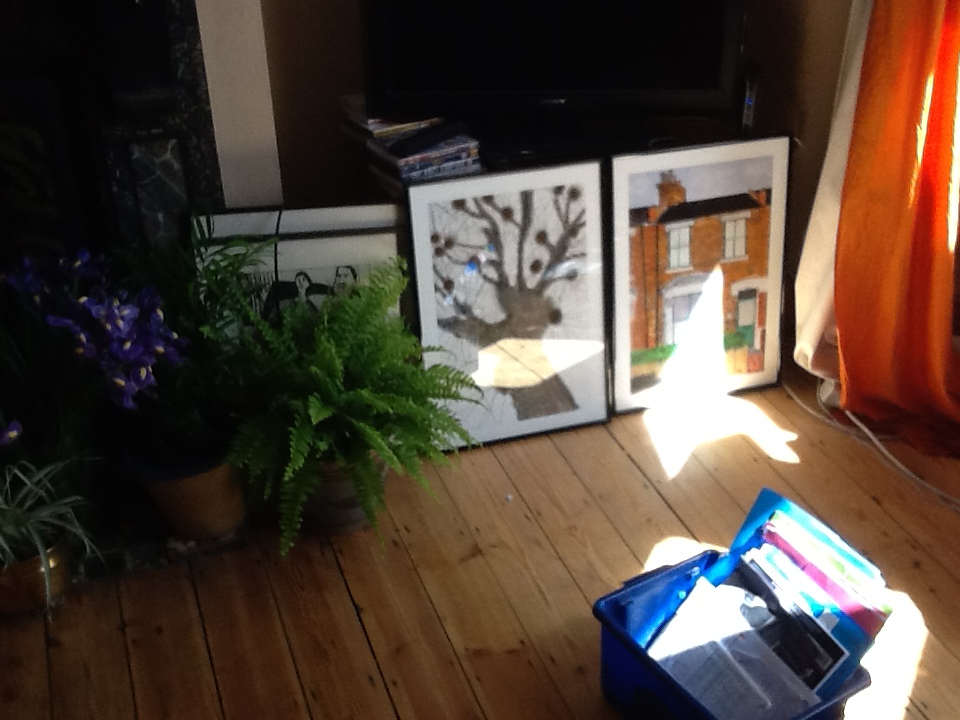 _________________________________
01/07/2013 Behind the scenes: Stacey Williamson
Stacey who will be running a papercutting workshop on Sunday 14th July (full details here) shows us her workspace: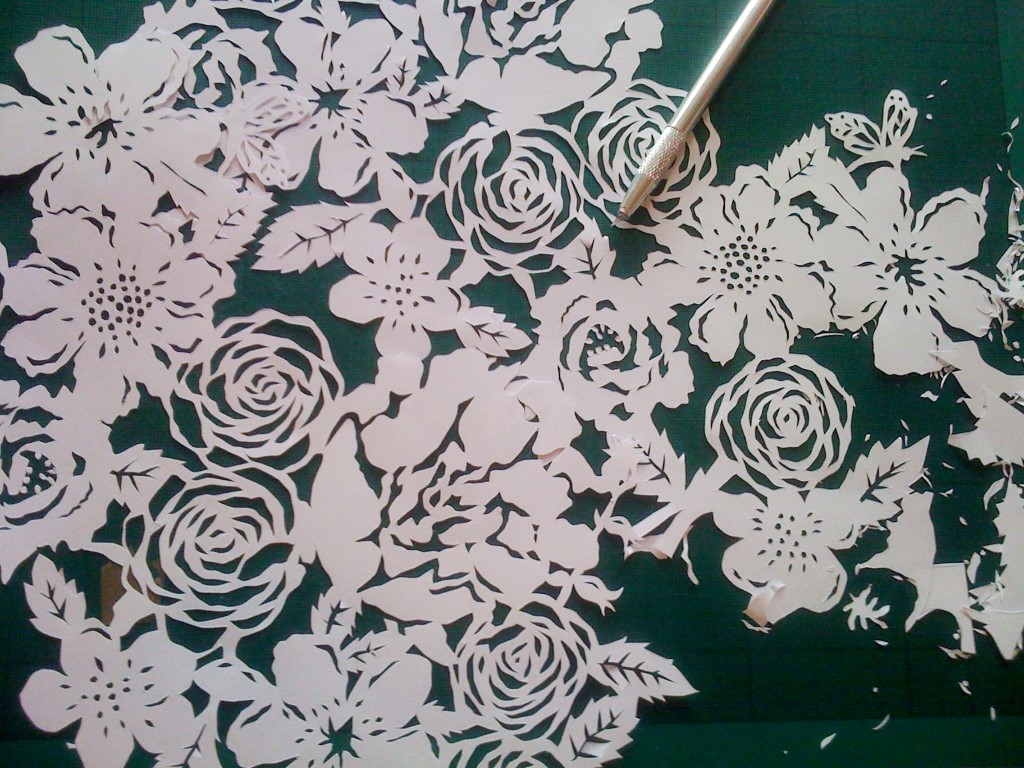 "I draw all my work freehand before I start cutting out the design. I draw the design out on the reverse of the paper, so the right side is clean with no marks.
I usually listen to classical music on the radio whilst I work. Nothing too frantic, I need something calming!"
"I love to collect postcards for inspiration, bits of ribbon and old bottles, so my desk is often crowded with odds and ends and more often than not, lots and lots of tiny pieces of paper!"
www.twoforjoyart.com
www.facebook.com/twoforjoyart
____________________________________________
29/06/2013 Behind the scenes: Jeff Cox
In  'Behind the scenes' #5 Jeff Cox shows us his studio at Matchmakers Wharf in Hackney. Jeff says of his work 'I paint in oil on wood and canvas and my works, which are mainly based on personal memories and relationships, aim to hover between the figurative and the abstract. I like the viewer to make their own interpretations.'
Jeff will be showing work at Cafe Montmartre as part of the Leytonstone Arts Trail as well as taking part in Memorabilia. To see more of Jeff's work please visit: www.jeffcox.co.uk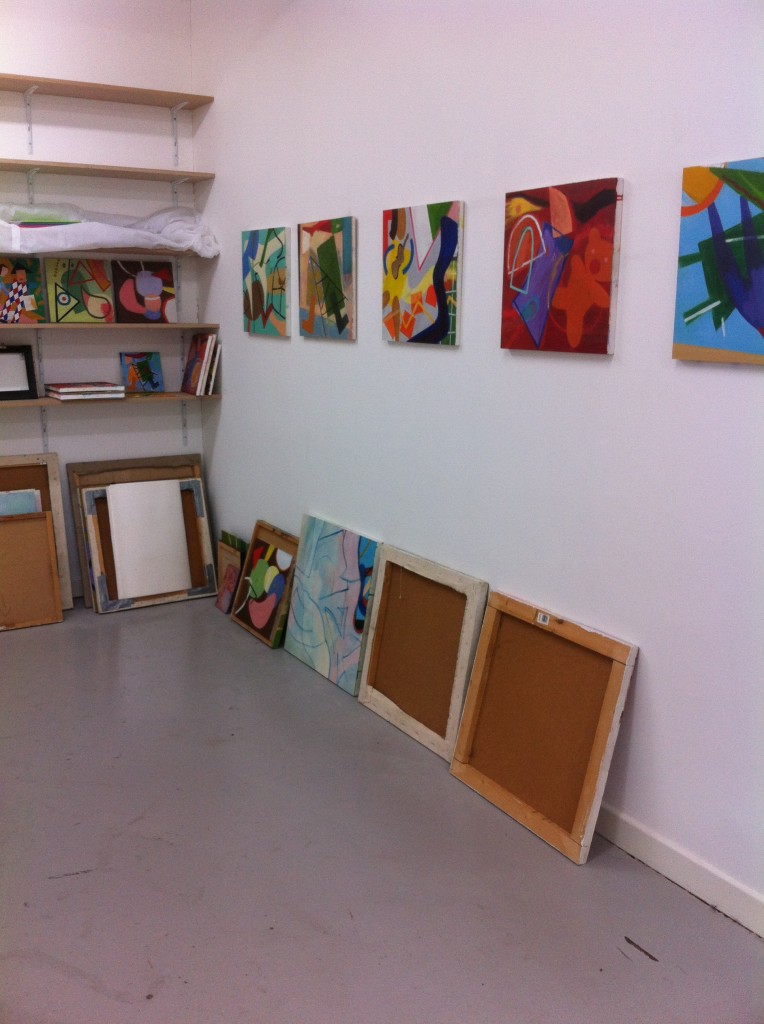 ____________________________________________
28/06/2013 Behind the scenes: Julie Caves
The focus of our fourth 'Behind the scenes' is Julie Caves, one of eight artists showing in the 'Waltham Forest Arts Club at The North Star' exhibition as part of the Leytonstone Arts Trail July 6-14 2013.  She is a Walthamstow-based artist with a studio at Blackhorse Lane Studios run by the Barbican Arts Group Trust.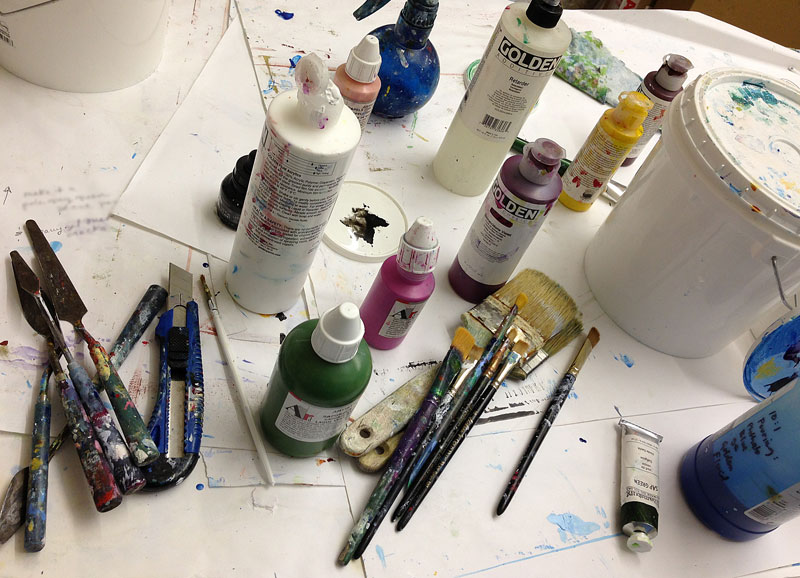 Her studio practice is a research into colour and colour relationships.  She says the subject matter depicted in the paintings is often just an excuse to explore colour.
"For this exhibition I used birds as a way in.  I made five paintings of birds, four acrylic and one oil."  One painting is an unusual long narrow shape to accommodate its location in the pub (over two small bulletin boards announcing the football).
Of the eight artists four are showing 3D work, so there will be a good mix of wall-based work and objects. There will be wire, stone, found object, and ceramic sculptures as well as an artists book installation.  The 2D artists will have drawings, paintings, and large photographs.
You can read more about the exhibition here: http://juliecaves.blogspot.co.uk/2013/06/waltham-forest-arts-club-at-north-star.html
For the last two years Julie Caves has been working towards an exhibition- "Curiosity" at The Crypt Gallery October 4-10 2013. http://www.toknowandtounderstand.co.uk
____________________________________________
27/06/2013 Behind the scenes: Brett Banks
In our third look behind the scenes at artist's taking part in the Leytonstone Arts Trail, Brett Banks tells us a little about how he got into Stone carving and shows us his workspace.
"The work that I will be exhibiting are individual pieces, as the stone that I use more often than not dictates what the piece will become.
I originally began Wood Carving, by way of adult education classes and from there got the bug for Stone Carving whilst visiting an open house, in Brighton, which also ran a workshop and by subsequent workshops with Sculptors from Zimbabwe. The biggest logistical problem that I face is transporting the stone in its raw state and the Sculptures when finished.
The workspace that you can see is my Studio, which is within the Inky Cuttlefish studio complex."


To see Brett's work visit the North Star pub during the Arts Trail where he will be exhibiting as part of the Waltham Forest Arts Club group exhibition.
____________________________________________ 26/06/2013 Behind the scenes: Sarah Carpenter

In our second post in this series, photographer Sarah Carpenter tells us about her recent project 'London Today; The Naked Truth', which will be exhibited at Green Cafe and shares with us some of the behind the scenes photographs she took on the day of the shoot.
LAT:Where are these photographs taken?
SC: At Trinity Laban, Deptford. Trinity Laban's Faculty of Dance is one of Europe's leading centres for the training of professional contemporary dance artists. The facilities include a 300-seat theatre, studio theatre and outdoor theatre, 13 purpose-built dance studios and an extensive library & archive.


LAT: What is the project and how/why did you initiate it?
SC: The collection was born out of an assignment from a BTEC course that I am currently undertaking at Kensington and Chelsea College in Fine Art Photography, the title of which was 'London Today'. The title conjures up many clichés for me, which I wanted to avoid. Instead my collection draws upon my own mixed feelings of London having lived, worked & studied here and those felt by a group of young female dancers starting out on a similar journey. For a supposedly liberal location, the population still seem shocked by nudity no matter what its nature therefore, through this work I intend to show the 'naked truth' whilst advertising the beauty & creativity of the city.
Having focused on the male gaze and notions of feminitiy whilst studying American Theatre at Rose Bruford University, nudity never seemed shocking to me an a theatrical environment, yet was not something that I had ever  considered exploring through my photography until researching Edward Weston and his use of the body as a sculptural shape. My work specifically references the portrayal of women as nudes within classical painting, however, I was keen to juxtapose this with modern environments to highlight the diversity of London as both a traditional and modern city.
LAT: How did you background in dance influence this project?
SC: This collection is strongly influenced by my background in dance, in fact movement repeatedly features in my work. Having been trained in dance from the age of two, choreographed from the age of thirteen & taught classes since I was eighteen, I have deeply routed understanding of dance. It has always been a way for me to communicate as I am dyslexic and struggle with words. Not only this, but I favour working with dancers as models due to their acute awareness of their body in space & the shapes that they outwardly project. Also, I am absolutely fascinated with working across art forms & how this type of collaboration can add depth and layers to the work.

LAT: What's next for you after the Arts Trail?
SC: I recently was offered a place at the University of the Arts London doing a Postgraduate diploma in photography which will begin in January so I am looking forward to that. As I am a self taught photographer, my studies have been important to me with filling in any gaps and building my confidence. I recently had a collection of work 'Fruit Shoot' make it into the second round of the Nikon Photo Contest and have two pieces shortlisted for the Cork Street Open exhibition this summer in Mayfair so I am awaiting further adjudication with these . The Stone Space Gallery here in Leytonstone have invited me to do a solo show in October which will be part of the Art Licks festival. This will in fact include a live dance event by the models from this collection, whom I am delighted to be choreographing for. As for new work, I never stop making it, & there are a few new projects in the pipeline but I am yet to confirm details so watch this space! I have had an amazing year considering that I hung my first ever piece in the Leytonstone Arts Trail 2012. I cannot wait for LAT 2013!
Models: Camille Desmarest, Elaine Foley, Jessica Haener & Linda Telek.
To see more of Sarah's work visit: http://www.sarahcphotography.co.uk
____________________________________________
25/06/2013 Behind the scenes: Clare Smith

As the start of the Leytonstone Arts Trail draws closer we will be going behind the scenes to give you a glimpse of the artists who will be participating in the trail, their workspaces and their work.
First up is Clare Smith. Clare lives and works in Kent. She will be showing work in the Red Lion pub, with Korinna McRobert. For more information about Clare's work please visit her website http://www.studio308ltd.co.uk.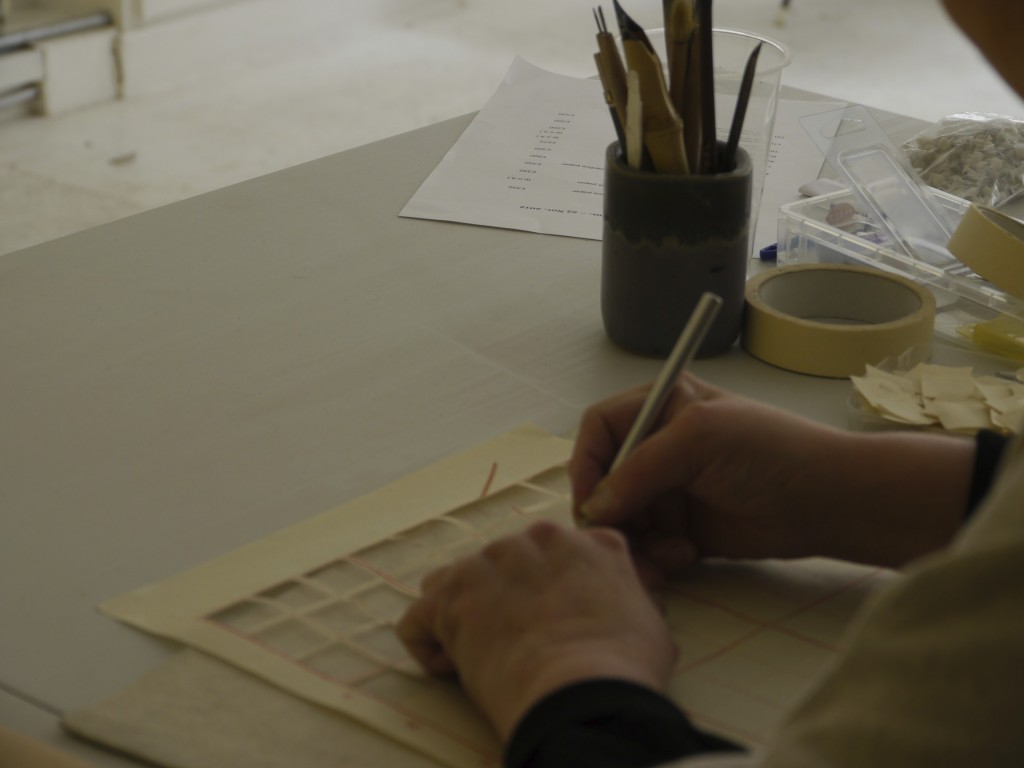 ____________________________________________
12/03/2013 Artist Opportunity: Sustainable Canvas Competition

The folks at itdoesthejob.com are inviting local artists to send in proposals for a mural on the street-facing garage of Carlton House in Leytonstone.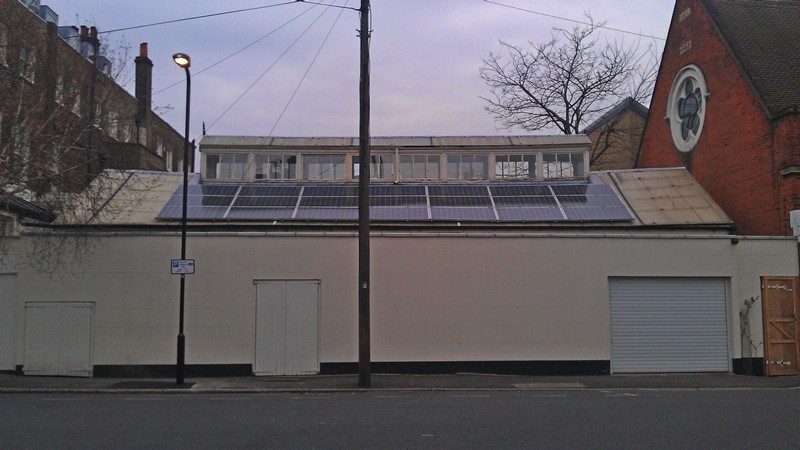 They will select a winner from the proposals they receive and the chosen artist will get the use of the wall in time for the Leytonstone Arts Trail and Festival. The artwork will remain on the wall for the duration of both events, after which they will paint over it, unless they love it too much to lose it!
Follow this link for more information about the competition.